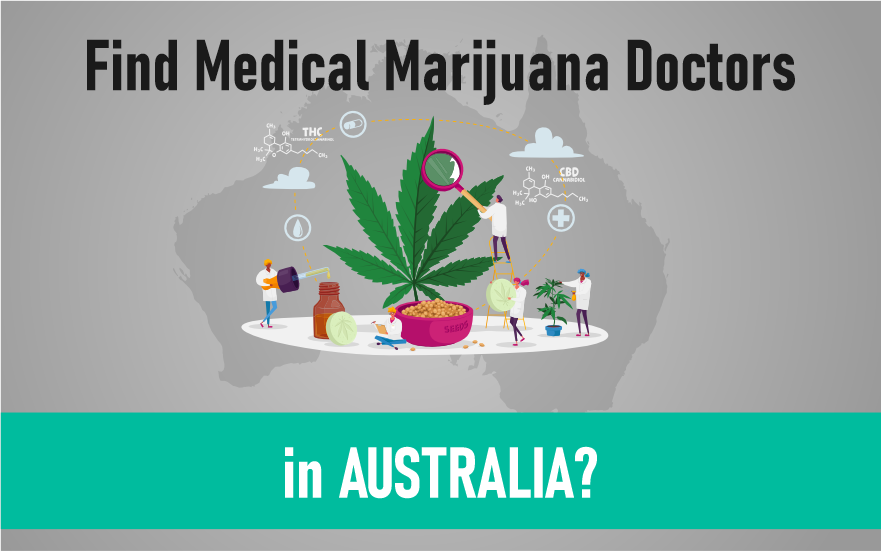 The best way for finding a medical marijuana doctor is to speak to your regular doctor. Any doctor in Australia is having the authority for prescribing medical marijuana.
As it is not a registered medication, doctors are having the requirement of applying for authority through the Authorized Prescriber Scheme or Special Access Scheme. It might be cumbersome & time-consuming if doctors are not being familiar with the procedure.
Patients are also having the requirement for finding an appropriate pharmacy that will agree to dispense the medical marijuana medications.
Can Any Doctor Prescribe Medical Marijuana?
Yes, any doctor in Australia is capable of legally prescribed medical marijuana. It is the case if they have obtained the proper authority through the Authorized Prescriber pathway or Special Access Scheme. Any prescriber might be a marijuana doctor in essence.
Will Any Doctor Can Prescribe Medical Marijuana?
It is basically a more crucial question. Just because any doctor is capable of prescribing medical marijuana, it doesn't mean that they will. In fact, most doctors will not agree to prescribe medical marijuana for a huge variety of reasons:
1. Stigma
There are still a huge number of stigma that is unfortunately attached to medical marijuana. Usually, it is popular as a recreational drug instead of a medication. It is complex for numerous health practitioners to see that there is a misunderstanding about marijuana for numerous years. Doctors don't have the desire for being popular as "marijuana doctors". However, attitudes are shifting towards the use of marijuana. It will take lots of time before we see major changes in the opinion of the public.
2. Education
Most doctors are not having the experience of doing the utilization of medical marijuana in their practice. And it is not something that they have learned about in medical school. Therefore, it is understandable that they are not being comfortable prescribing medical marijuana for their patients. The reason is that they can't be assured of its safety & efficacy. They are not being familiar with prescribing regimens, optimal formulations for each condition along with dosing guidelines.
3. Paperwork
Since doctors have the requirement of going through the special Access Scheme for unregistered medicines. This procedure is admin-heavy and time-consuming. Doctors are not having familiarity with this process. And for numerous poor doctors, it is understandable that they are not capable of setting aside hours for learning about and for the completion of all the required steps.
4. National vs State Approval
Medical marijuana is an unregistered medication. It refers that there is no listing of it on the Australian Register of Therapeutic Goods. So, doctors don't have any requirement for applying to the government under a special program setup. It is for accessing unregistered medications.
They have a requirement of authority on a state level, e.g. NSW Health & national level (TGA).
There are some states which have done streamlining of the process. The reason is that if the TGA grants approval, the doctors will automatically gain approval from the state. It happens with limited exceptions. For instance, children under the age of 16 may still have the requirement of separate approval from the state.
You have to take into consideration the regulations of the state. It is for having a better understanding of which doctor is capable of prescribing medical marijuana in your area.
What Medical Marijuana Can Doctors Prescribe?
Now, there are more than 190 varying medical marijuana products that are available for prescription in Australia. However, the marijuana oil which you have taken orally still remains the most popular type. But, there are also other forms that are available that are inclusive of wafers, oral sprays, capsules, and flowers (for
vaporization). There are also some compound pharmacies that can even do the formulation of CBD dreams used topically.
Now, marijuana oil makes up 65% of medical marijuana products prescribed and flower makes up 17%. since the legalization of medical marijuana has happened back in 2016. So, the prices of marijuana medication have been reduced. Over the years, prices have come down more than 50%. As more competition is entering the market. There is more force on suppliers for dropping their prices for remaining competitive.
Are Doctors Eligible for Prescribing Marijuana Flower?
Yes, any doctor is eligible for legally prescribing marijuana flowers for any health condition. It is the case if they have a belief that it is an opinion for appropriate treatment.
There are numerous doctors who will recommend their patients for using marijuana oil first. The reason is that it is easier to do the consumption and dosing of it. Flowers are better suitable for breakthrough pain. The reason is that the onset of flowers is much faster than oil.
Patients will have the requirement of trying a conventional medication first. It is prior to prescribing marijuana flowers as it can't be a first-line treatment.
Can't I Buy Medical Marijuana Now Over The Counter At The Pharmacy?
However, CBD has been down scheduled to Schedule 3. Now, over the counter, it is available at pharmacies. Still, there are no legal products that are available for purchasing yet in Australia.
The reason is that companies have the requirement of firstly conducting research demonstrating the safety & efficacy of their products. The products also have the requirement of meeting strict Good Manufacturing Process or GMP protocols to get registration.
Over the counter, before CBD products are available for purchase, it will be a while before in pharmacies across Australia. They will be limited to CBD isolates even once available. And these might be expensive because of the enormous research & development costs companies that will have requirement of recouping.
What is meant by an Authorised Prescriber?
Some doctors are capable of prescribing under the Authorized Prescriber access pathway. It signifies that they don't have the requirement of applying to the TGA for prescribing particular medical marijuana products each time. The process is time-consuming of becoming an Authorized Prescriber along with being onerous. So, some doctors will still give preference to prescribing through the SAS-B pathway (Special Access Scheme).
For instance, if your doctor is an Authorised Prescriber for a particular brand of oil. And you would have the desire of trying a diverse formulation or a flower. The doctor will have the requirement of being an Authorised Prescriber for that product. Along with this, there is a need for using this access pathway. Otherwise, you will have the requirement of applying for the new product under the SAS-B pathway.
How Can I Find A Medical Marijuana Doctor?
As we have already mentioned that the best place for starting is with your regular doctor. The reason is that they have a better understanding of your medical condition along with your history. However, most doctors will have lack experience or they will be comfortable in prescribing medical marijuana.
In addition to that, medical marijuana products are not currently TGA-approved registered medications. There is additional regulatory paperwork that must have become completed. For time-starved GPs, this is a challenge.
You can ask your specialist doctor or GP in these cases for a referral to a medical marijuana clinic.
What are the conditions for which Medical Marijuana Doctors may prescribe?
There is no particular list of conditions that are eligible. And TGA will take into consideration the conditions that have not responded well to conventional treatment. The list of conditions approved by TGA in the past are:
PTSD, Depression, Rheumatoid Arthritis, Insomnia, Chronic Pain, Neuropathy, Sleep disorders, Anxiety, Ischemia Arthritis, ADHD symptoms, Fibromyalgia, Alzheimer's disease, Migraines, Epilepsy / Seizure management, Glaucoma, Anorexia, Autism Spectrum Disorder (ASD) symptoms, Cancer Pain, Chemotherapy-induced nausea and vomiting (CINV), Multiple Sclerosis, Neuropathic pain, Parkinson's Disease, Polymyalgia Rheumatica, Dementia, Endometriosis, Chronic Regional Pain Syndrome, Spasticity from neurological conditions, Epilepsy and Tremors.
There is not an exhaustive list and new conditions are also getting approval on a regular basis.
There are some most common reasons which we see that people are prescribed medical marijuana in the clinic. These are for all types of chronic pain along with depression, insomnia, and anxiety.
What can I do if my doctor won't refer me to a Medical Marijuana Doctor?
Relatively medical marijuana is a new treatment option for Australian doctors. So, it is understandable that numerous lack experience & are uncomfortable with supporting treatment.
How long will Medical Marijuana Approvals Take?
Under the SAS-B pathway, doctors have the requirement of applying to the TGA for every prescribed marijuana product. It might take a few days or up to a few weeks for gaining approval. Once it gets approval, the prescription is written and sent along with the permit to the pharmacy.
The prescription is sent directly to the pharmacy under the Authorised Prescriber pathway. It is dependent on which state you are living in that your medication might be dispensed on the same day. However, generally, pharmacies don't keep medical marijuana products in stock. So, they will have a requirement of ordering it in which could take another few days.
Do I have to see face to face the Medical Marijuana Doctor?
You don't have any requirement for seeing the medical marijuana doctor face to face for assessing medical marijuana. You can book a telehealth consultation and can also speak with the doctor over the phone or video link.
Summary
Medical marijuana in Australia is available for any doctor for prescribing. It is the condition when they feel that it is warranted for their patients.
The granting of authority happens on a state level and national level (TGA) for prescribing medical marijuana. So, there might be any kind of variations that might limit some doctors from prescribing particular products.