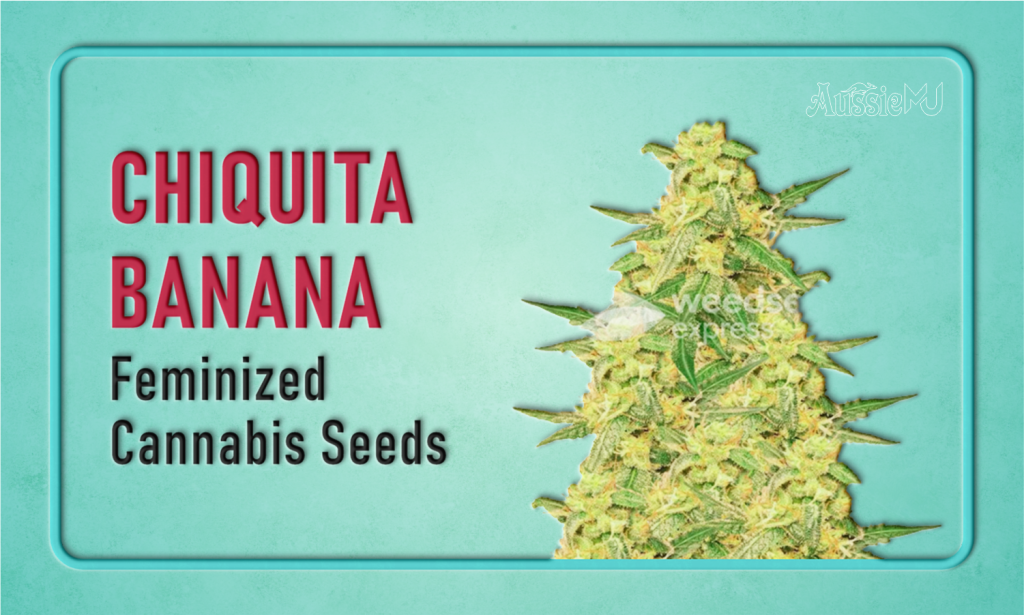 Chiquita Banana Feminized Cannabis seeds possess the reputation of being one of the most powerful strains of marijuana in the world. Certainly, it has spunk, which of course with a THC content that is up to 29% and there should not be any surprise in it.
Chiquita Banana is a good-looking plant that comes with an extremely nice color spectrum on both the buds and leaves. Moreover, in spite of its Sativa dominant characteristics, this Chiquita Banana marijuana plant is extremely easy for growing. And therefore this Chiquita Banana is absolutely appropriate strain for novice marijuana growers among us.
Tech Specs
THC level: 29%
CBD level: 0.5%
Variety: 40% Indica / 60% Sativa
Genetics: OG kush x Banana unknown
Max yield indoor: 300 to 400 grams/m²
Max yield outdoor: 400 to 600 grams/m²
Height indoor: 90 to 120 cm
Height outdoor: 130 to 160 cm
Flowering time: 56 to 70 days
Why should you buy Chiquita Banana Feminized Cannabis Seeds?
These Chiquita banana strains serve you with highly good yields of marijuana
These are extremely high-quality weeds
This strain is popular for responding well to SOG or SCROG
Chiquita Banana Feminized is a strain that facilitates you with powerful high
This marijuana strain comes with a fruity and spicy aroma and taste
Origin
Chiquita Banana is the outcome of an inspired cross between Banana Kush & OG Kush which makes it a strain that is 60% Sativa dominant.
Growing Chiquita Banana Feminized Marijuana Plants (Indoors & Outdoors)
Chiquita Banana Feminized cannabis seeds will be grown into fabulous marijuana plants that have high mold resistance. THC levels of this marijuana strain are up to 26% – 29% and it has CBD percentages that are around 0.5%. When these feminized marijuana plants get matured entirely, they become covered in a layer of crystalline trichomes that facilitate with the hint at the promised treasure within.
Chiquita Banana marijuana strain grows well in warm, arid, and Mediterranean climates. But, you can also grow this strain outdoors in the summers of temperate climates.
If you are desired of growing these plants, then it is extremely crucial for you to have abundant space. The reason is that Chiquita Banana is a Sativa dominant marijuana strain. It will stretch quite a bit at the beginning of the flowering phase. So, you are not at all required to wait for a long time for the flowering of these plants when you are growing this strain indoors. And you have to ensure that you are having abundantly high grow space.
Don't you have sufficient space for growing Chiquita Banana, then it is good to know for you that you can train these plants very well. For instance, by making use of methods such as SOG or SCROG.
Flowering Time
However, this Chiquita Banana is a Sativa dominant marijuana strain and the flowering time required by this strain is a bit short. After a flowering period of about 8-10 weeks, the beauty of this plant is ready for harvesting.
Plant Height
When you are growing Chiquita Banana indoors, then these plants reach a manageable height that is about 90 cm to 120 cm which is dependent on the chosen pot and your growing techniques.
Yields from Chiquita Banana
Chiquita Banana is highly capable of doing the production of an extremely substantial amount of weed with a healthy growth phase and a completed flowering phase.
If you will grow this delectable marijuana strain indoors, then it will serve you with a yield that is up to 400 gm per m2. When you will grow this Chiquita Banana marijuana strain in warm conditions, it can yield up to 600 gm m2.
Effects
After consuming this strain you will come to know that your sinuses begin to do tingling almost instantly when you first smoke this weed. It is temporary and serves you with mild side effects along with stinging eyes and a dry mouth.
However, it is common, but some smokers report that when they consume high doses, they experience a feeling of paranoia.
Taste & Smell
The taste & effect of this Chiquita Banana marijuana strain is actually what makes it a stone-cold classic. It signifies that banana peel is mixed with nutmeg and cinnamon. In short, these are deliciously sweet along with being peppery, spicy, and fruity.
Before experiencing waves of energy, you could almost imagine yourself eating the banana cake of your mother that promise you an unforgettable high.